LIFESTYLE
Simple table-inspired Thanksgiving ideas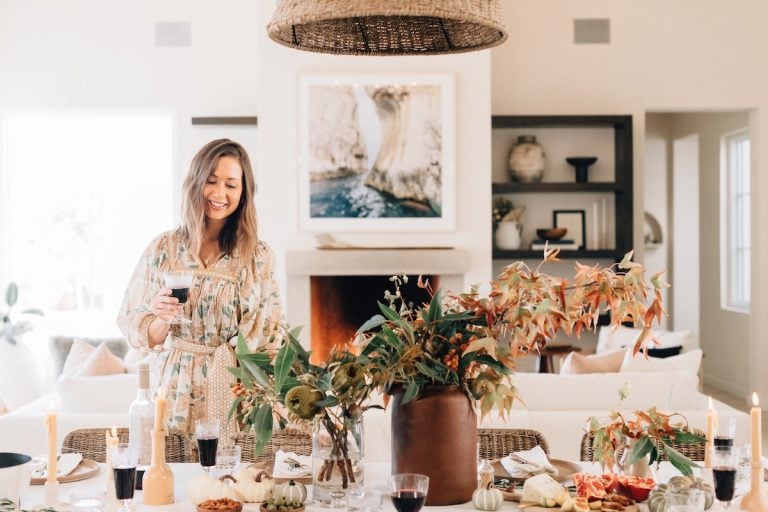 The appearance of the Thanksgiving table is officially becoming one of my favorite holidays (see last year's table here.) Creating an inspirational board To thank those who feel fresh and inspired by the ideas on the table, to spend the day styling dishes, candles, linen and autumn branches … to get to call it "work" still leaves me pinching myself.
My process always starts to soften my inspiration (this year, pumpkins and leaves with earthy autumn tones), and then I buy vases, candles and clothes that fit the vibration of my house. When I still know what gaps in table design I have, I put together some new table pieces to add to my collection – and yes, I link everything I bought in the post below. Go to this year's table (it may be the favorite I've ever had) and all of them seasonal Thanksgiving table ideas I gave my inspiration a lifetime.
When I'm designing any table, I like to add some interesting new elements, but I aim to buy things that I can always use. One of the beautiful features of simple, neutral pieces is that they can become part of a collection with an unprecedented date and can be mixed and matched with so many pieces throughout the year. That's why I always start my process my purchases own cabinets! You never know what benefits and what creativity can create, and I always find nice dishes, vases, and candles to integrate into my design. It comes with the challenge of making the fun feel fresh. Then when I go to buy new items, I think about the seasons, but I also look for a timeless quality that will integrate with the other items I've had in the coming years.
Since I've been using the same sets of Heath Ceramics plates for years (I have matte white and gray), I decided it was time to give this year's table a new color. I fell in love with the caramel tone these sandstone plates–The glossy matte is modern and the simple lines and curves of the lips gave it an organic touch. The price of the 4-piece settings was also appealing, especially considering they are handmade.
Thanks to the neutral palette, I like to keep a high mix of ceramic and wooden candlesticks, which can be mixed and matched, making the home feel still clean. Some of them are more expensive pieces of marble collected over the years, while others are more expensive cheaper–But when you combine them all, the whole effect is undeniable. This year, I feel a softer shade of yellow these bee candles, instead of white – and they are a total robbery of Target.
I think of food colors and textures as part of my table design: this three-ingredient appetizer is the perfect Thanksgiving snack and the excellent shades are the perfect complement to my focus. Start with a thick wedge of blue cheese (I love stilton or cambozola – something aged and creamy), pair with crackers packed with fruit and nuts and one or the other autumn fruit (you can't beat the beauty of figs and pomegranates, if you can find them!)
This year, I was inspired by the idea of ​​incorporating a classic pumpkin motif, but in shades of earthy shades. No orange color found! Although you can go to a local market or a pumpkin patch, I wanted something that I could reuse year after year. I jumped on Joann's website and searched for lots of fake pumpkins and squash, ordered a few and then spread it across my tablecloth to get an organic and not at all Halloween-inspired look. And yes, everyone thinks these are real.
Let's talk about these autumn leaves, shall we? The centerpiece is always the main factor when it comes to carrying out Thanksgiving table ideas, and among the fruits, leaves, and flowers, there are plenty of options. I'm lucky to live a mile from Austin's huge wholesale flower market, so I showed up on the morning of our shoot and got a bunch of leaves in autumn tones, grown eucalyptus and olive branches. I was satisfied when I got home brown with a large vase that would be my focus, plus the role of a smaller glass bowl to help play the role. Then I just played with it so that the natural curves, twists and turns of the branches would be my guide. See that you are joining the organization below …
Next, I kept some dried flowers lying among the leaves. Protein and berries have been my favorites lately, and I love the aesthetic of mixing fresh leaves with dried leaves and flowers. It's autumnal and humorous, and the arrangements will last for weeks on end.
While last year's Thanksgiving table showed the beauty of a raw and unstained dining table, this year I decided to create a slightly more refined look by covering the entire table easy linen table cloth. I pressed lightly, but I embraced the natural roughness of the linen, and I love the light canvas created for my seasonal items.
The only thing that matches the hobby of setting the table is to organize a menu – and we have all the recipes you need in our Guide to Thanksgiving everything right here. These dairy-free mashed potatoes are next-rate, and I can't wait to share with Michael Fjotas the chef who taught me how to make roasted turkey in our shoot – it's the perfect recipe indeed.
If you have any Thanksgiving table ideas that you plan to live with this year, I'd love to hear from you! Post a comment below and cheer for a nice holiday season.