FASHION
She runs a marathon in New York for all Afghan women who can't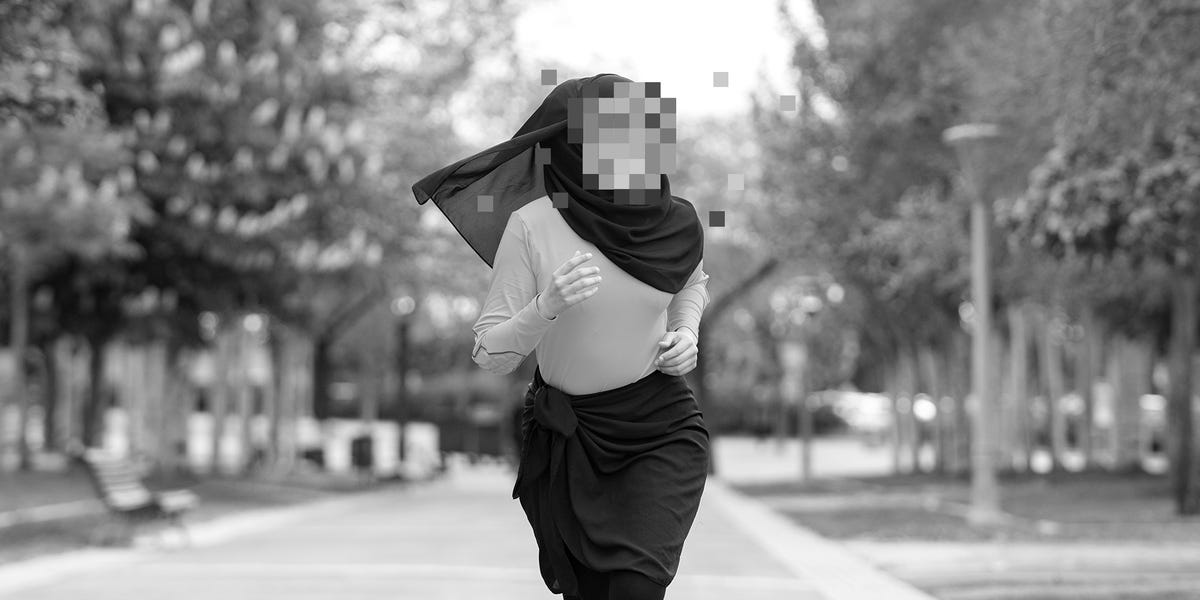 In August, the world watched in horror as the Taliban quickly seized the Afghan capital, Kabul, after the withdrawal of US troops, ending a 20-year occupation. Articles depict brutal, inhumane acts of violence; photos of Afghan civilians crowding the airport, desperate to flee Taliban rule, surfaced. But few were more surprised than Zahra *, a 29-year-old Afghan scientist and soon-to-be marathon runner who said goodbye to her home, friends and family in Afghanistan just five days earlier to pursue a master's degree in finance at a university in New Hampshire.
"I never thought the Taliban would take over Kabul so soon," she said. "It was shocking. When they first came to Afghanistan, I was a child. Now, as an Afghan woman in the United States, I do not feel the suffering that Afghan women are currently experiencing in Afghanistan. She stops to sigh, heavy with grief. "I am very lucky, but I also feel guilty.
Zahra was 4 years old when he experienced his first clash with the Taliban. It was 1996, the year in which the Islamic extremist group first rose to power and established what would later become a five-year regime. She remembers the moment – a burning memory that would shape the trajectory of her life – with incredible clarity: the motorcycles she rode (and to this day the spinning of motorcycles still fills her with horror), her father standing on a football field, captured and taken away as she looked helplessly into the distance. She rushed home to tell her mother and uncles what had happened. Their reaction was complete and utter distrust, and they were left with only one question: What should we do now? Fundraising. The Taliban wanted money.
"We sold everything to free my father – we sold everything we had. We wanted our father to return, "said Zahra, who explained that as Khazars, a minority ethnic group living in the Dasht-e-Barchi area of ​​Kabul, they have long faced persecution. "When my father was released three months later, his body was covered with beatings – torture. He lost his legs because of this and now my father can't walk properly.
After her release, her father was adamant that they were leaving the country altogether. So the whole family – Zahra, her mother and father and her two older brothers – got into a car and drove for two days until they reached Pakistan, where they started life from scratch. It was here that Zahra, 4 years old, and her two brothers (ages 6 and 8) spent their days from morning to night weaving carpets to earn money for the family. When she was 6, she started going to school during lunch. During those two hours, in a classroom with 20 other students of all ages, she learned math (her favorite subject) and English.
"I knew from a young age that the Taliban didn't allow girls to have an education, and I didn't understand why not." she says. "There was a desire in my heart to learn. My parents never told me not to study, but I felt that they supported my brothers more than I did. She stopped laughing before continuing: "I wanted to prove to them that I was more capable than my brothers, so I studied harder than them. I studied even when I was weaving. Whenever I had free time, I wrote, read or did my homework.
Zahra's family returned to Afghanistan in 2001 after the United States overthrew the Taliban after 9/11. At the age of 9, Zahra was finally home again. It was a sweet, bitter moment – she was happy to be reunited with her extended family, but she was devastated to see the devastation that the war had ravaged in her homeland. "Everything was damaged," she recalled. So we started from scratch again and had to rebuild our home.
She called the 20-year occupation of the United States a golden time. The era of possibilities. Women had a choice: they could wear whatever they wanted (a hijab, like the one she was currently wearing, for a burqa), they could work, they could run a business, they could pursue education, they could play sports. Although, to be clear, she speaks of the more progressive provinces in Afghanistan, which include Kabul, Bamiyan and Herat; other areas were still very conservative. Zahra took full advantage of the opportunity and became a full-time student, throwing herself into her studies, which earned her high grades and access to certain classes, such as computers and English (until she finished high school, she taught computer courses to other women). To continue their higher education, Afghan students are required to take the Kankor exam, an university entrance test administered by the Afghan Ministry of Higher Education. Zahra scored 316 out of 360, making her the tallest student in her school.
"My supervisor told me, 'You are the pride of our school,'" said Zahra, who earned a degree in economics and later got a job as a finance specialist. "My mother, my father and my brothers were really proud. Getting into Kabul University is very difficult because you have to have a high score to be accepted. "
Another great moment was learning how to ride a bike. Zahra has always been interested in sports – especially cycling – after seeing boys riding their bikes. So why not her? "My mother told me that a woman can't ride a bike – that it's not suitable for women my age," she said. "When conservative men see women on bicycles, they often harass, insult or throw stones at them. That infuriated me. Women can do anything, and I wanted to ride a bike. I told her I would learn. She later supported me. "
In 2016, when she was 24, Zahra devoted several months of training to achieving what she considered an impossible task at her age. She was convinced that this was something only children could take, but she trained every day at home, with her hand on the wall to keep her balance (she fell twice and broke her arm once), and finally mastered it. Two years later she joined Cycling without bordersand soon after, Freeto Run, a program that enables women and girls in conflict-affected regions to participate in sports where she can run with other girls. And in 2019 she is committed to SheCan Tri, which gave her the opportunity to compete in triathlon.
But it is the simple act of placing one foot in front of the other that is most liberating. Zahra first started working in 2018 at a time in her life when she was deeply dissatisfied with her work and working with a non-supportive manager. She found that it allowed her to feel free. "When I woke up in the morning to run, it motivated me to endure the suffering I had at work," she says. "It was a kind of therapy for me."
And running continues to serve her as something of a therapy. Now, alone in the United States (as a result of receiving a Fulbright scholarship), thousands of miles from her family, learning of the near-daily explosions in Afghanistan and feeling completely powerless to help, she manages to escape – and on November 7, she will run in 50th TCS Marathon in New York on behalf of Free to Run, one of the marathon's 490 charity partners.
"Whenever I feel like I can't run anymore, I think of all the girls and women who can't run to Afghanistan, who can't get an education, who can't go to work – their problems are bigger from me and when I remember them, it motivates me to move on, to do what I can for Afghan women and my family, "she says firmly. "Women in Afghanistan are my main source of inspiration. I keep praying for them and running for them. "
Zahra recounts a recent conversation with a friend, a woman at home in Afghanistan, who said the Taliban had banned everything for women, taking away their dreams, hopes and lives. In other words, "the meaning of life," she says, "is broken."
She is well aware that her existence – her hard-earned scholarship, her connections to charities and sports clubs – puts her family's life in imminent danger. Anyone connected to the United States is considered a threat, and if the Taliban find her and her family, they will torture them. However, she does her best to make noise, to do everything possible to help her family escape. If there's one thing she wants the world to know, it's that Afghan women are capable of anything – they can be engineers, doctors, pilots, runners. She gives herself as an example: "I'm in the United States to get my masters, and I'm going to run a marathon. All Afghans are like me; all Afghan women are even more capable than I am. I don't want the world to forget about Afghan women. "
* Zahra's last name and key details are hidden to protect her identity and ensure the safety of her family in Afghanistan.
This content was created and maintained by a third party and imported on this page to help users provide their email addresses. You can find more information about this and similar content on piano.io