LIFESTYLE
This Tarte Soleil is the Christmas appetizer you need this season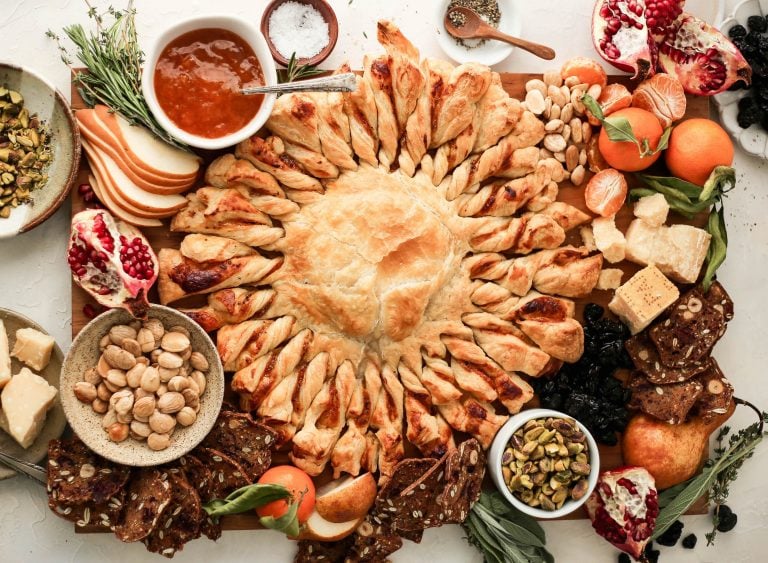 The holiday season is already in full swing and I am thrilled by the sound of Mariah Carey singing. Everything I Want for Christmas running to my grocery store. As for the holidays, I'm talking about a maximalist mentality …A Exhibition! This is the time of year when we all need to feel special and enjoy the joy of spending time with those we love the most. Since most of our holidays were a little different last year, it's especially exciting to celebrate the return of some traditions by adapting to some new ones. Any tradition I'm looking forward to following? An excellent cheese board that has been renewed for any of the gatherings we will be hosting this season. You know I love a cheese board, and I'm always looking for fun ways to make them feel new and special, especially at this time of year. So for this year's version, I've found inspiration from the ever-remaining Tarte Soleil.
This French-inspired puff pastry dish always has a fun and interesting combination of fillings. Sweet with a hint of chocolate or stuffed cinnamon or salted with tomato sauce or pesto, the options are truly endless for this very easy Christmas appetizer.
I wanted to play with a sweet and savory version that would go well with other snacks and snacks that I served for meetings this year. So I took my favorite canned apricot and personally sprinkled a large chunk of fresh herbs and spices that make up the sweet apricot perfectly. And to really get things done, I inserted a brie wheel in the middle of the cake so that everything melted and stuck.
Although the end result may look elegant, it couldn't be easier to put together and you only need a few ingredients to make this recipe.
The puff pastry is obviously the basis of it all here, and after mixing it with a lot of the sweet puff pastry, I have some tips and tricks to help you guys.
Work with cold baking. The warm puff pastry sticks and makes it almost impossible to use, in my opinion. So work quickly and methodically to make things as easy as possible.
To spread the puff pastry, I found that the use of parchment paper flour on the top and bottom of the cake also sticks.
Holding the subject of the refrigerator, I will spread the puff pastry as needed and then store it on parchment paper until it is ready to use in the refrigerator.
After assembling your cake, I highly recommend sticking the finished set back in the fridge or freezer for at least 10 to 15 minutes. Like the crust of the cake, it will help keep your cake dough in its shape, and when you put cold cake in the oven, it helps to inflate the temperature shocks further.
The combinations are endless in terms of this recipe. Here are some of the ones I'm excited to try this season:
Goat Cheese and Pesto
Olive Tapenade or Onion Chutney and Parmesan
Garlic Butter and Tomato Sauce with Mozzarella
Chocolate top with sugar
Serve it on your own as part of your Thanksgiving lunch table, as holiday guests pass by, as part of a giant cheese board or on Wednesday night. Happy snack!